From a post originally published in 2018; now updated.
Name: André Perreira
AKA: Acer
Based in: Lisbon, Portugal
Instagram:
@tio_acer
As I've know him, André is an exceptionally talented yet humble and generous individual. He was one of the first brand collaborators back in late 2017, and we've managed to stay in touch and work steadily on a few things together over the past few years. Despite how impressive his abilities are, he's always made the time for our projects, and I've enjoyed seeing him shift between disciplines over that time, including a more recent move to ink.
So, André-- how did you first get into art and particularly graffiti/street art?
It started for me when I first began art school. I met some big names in the Portuguese graffiti scene at the time. This was around '98/'99, at António Arroio, which is the best art school in Portugal! Most of those artists aren't even active anymore, but I remember the names of Capone, Hel, Res and few others that were pretty strong in the scene back then.
What's the memory of your first piece?
I have memories of my first attempts... but the biggest memory I carry with me is from when I entered my first "wall of fame" in 1999 along with some artists I admired.
And tell us why graffiti writers use tags instead of birth names to identify themselves...
In the graffiti scene all (graffiti) writers have a tag, which becomes their identity. Once the "street art" movement became part of the picture all that changed, though. So it's more a matter of where you come from. Your roots. I stick to my tag (alter-ego) of Acer because my background is as a graffiti writer. 
And why choose Acer as your tag?
Acer came from the word "Ace" and also just from mixing up letters from my name, André. My friends picked it up and  started to call me by it, so it stuck.
Straight. What's the street art scene like in Portugal? 
Portugal has a very strong street art scene right now with many local artists getting their work recognized all over the world. 
In Lisbon, who do you usually collaborate with? And who (or what) are some of your artistic inspirations?
I have to say the members of my crew Zk's are both my partners and my biggest inspiration.
Do you travel elsewhere much to do graffiti or murals?
I travel a lot, but that's mostly for modeling and acting jobs. 
How did you get into that? That's a bit of a switch, yeah?
Well, I started modeling for fun and to get some extra cash, because when we got hit by the financial crisis (in 2008) I couldn't afford any longer to live only from my art. But soon I realized I had potential to do much more and became a professional international model and actor working around the world.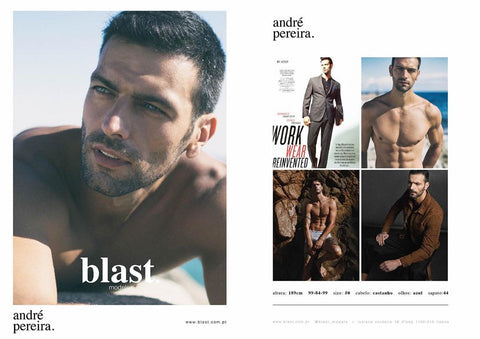 Setbacks are part of life; only when you fall down will you be able realize how strong you are to get back up. My advice to younger artists is to be true to yourself, find what you love and stick to it all the way... see and try different things, get inspired and keep developing your style and identity.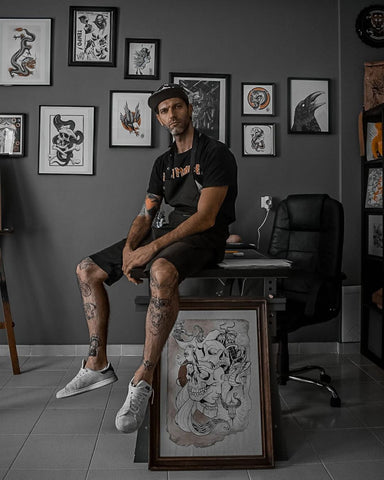 Right on. So who is the woman in the first DrawBag you did up?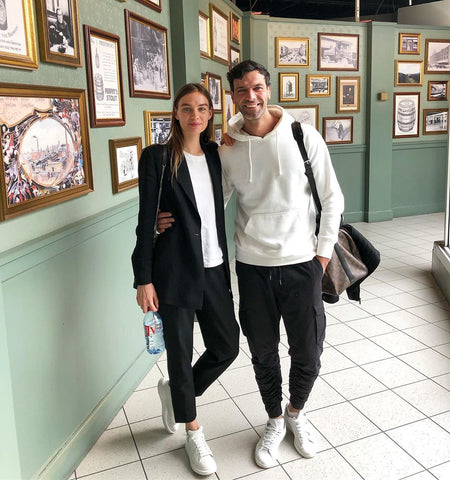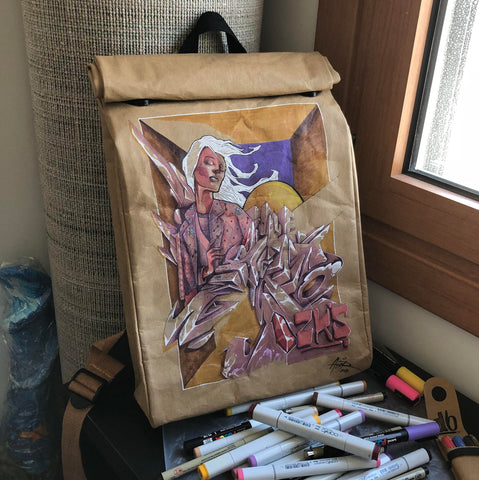 There's so much detail in that bag when you look at it closely. I really love that piece. You've also done a few more custom pieces I really dig. Basically, when we put out new bag designs, we'd often send some out for you to test.
And then there's the LunchKraft print you designed, which can be colored in by the owner if they like. This one isn't yet released but it's in queue. The title is "The Puppeteer" and I'll leave the interpretation on this one for viewers to figure out.
Well, it's about those pulling the strings...
And tell us a bit about the shop you opened at the end of this past year.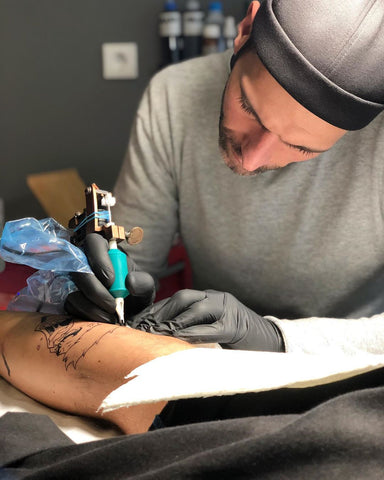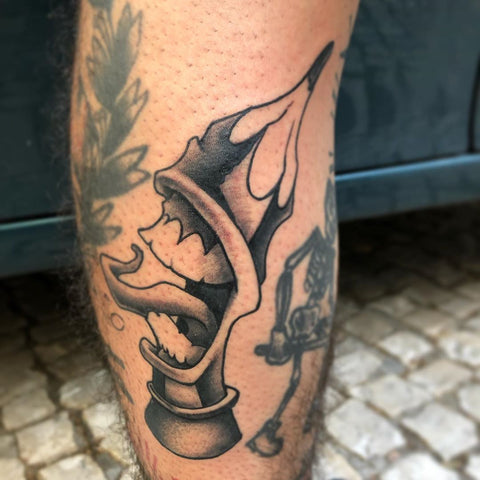 Alright, let's end on something frivolous. What music are you listening to these days?
I like to go heavy when it comes to music. Lately I've been listening to August Burns Red and Architects a lot... I mean A LOT.
And how can someone connect with you?
I have Instagram accounts for both my modeling and art work. And anyone can message me through Behance, too.